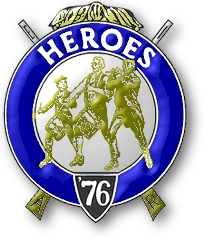 We are located in San Antonio, Texas. Our business meetings are on the first Wednesday of the month.

We also have a dinner meeting every second Wednesday with the ladies.

If you are interested in joining us and meet the qualifications for membership below, e-mail one of the officers listed below.



History of the National Sojourners

ACTIVITIES
BUSINESS MEETING: We will again be at the Barn Door, 8400 North New Braunfels, (Inside Loop 410), 3 May 2017. Come early get your lunch with the meeting to begin at 1200 hours. It will be order from the menu. Main business will be the election of officers for the coming year. Come and enjoy the fellowship.

THE MONTHLY DINNER MEETING is scheduled for 10 May 2017 at the Barn Door, 8400 North New Braunfels, (Inside Loop 410). Social time at 1800 hours with dinner at 1830 hours (NOTE CHANGE).

Dinner will consist of Salad, 6 oz. Filet, or Salmon, Baked Potatoes, Vegetable, Dinner Rolls/Butter, Iced Tea and Water, Coffee by the cup and Complimentary dessert.

Price of the meal – Steak $25.00 Salmon $30.00. Reservations to Bob McConnell, at 210-659-6813 or JMcconn529@aol.com, or Lee Leopard at 210-434-7429 not later than 8 May 2017.

This will be our annual Memorial Service where we honor our deceased brothers and widows.
Sign up early and come and enjoy the fellowship.
Attention all Heroes: A bivouac is scheduled for Wednesday, 31 May 2017, at Grady's BBQ, 6510 San Pedro. Put it on your calendar. Dine at 1700 hours.

OFFICERS
National Officers from Ft Sam Houston Chapter 17
President - Merlen F. Howe (TX)
President Elect - James N. Higdon (TX)
1st Vice President - James A. Baker (TX)
3rd Vice President - Edward W. Nolte, Chairman
Judge Advocate - Benjamin M. Yudesis (TX)
Surgeon - Michael S. Jaffee (TX)
Chaplain - Ira M. Flax

Trustees

Andrew J. McVeigh III
Harry E. Sanders Jr.
Sidney Shaenfield
James R. "Bob" McConnell
Frederick Vihovde
Earl T. Kuhn, Jr

Committee of 33

Carl J. Diamond
Robert E. Epps
David H. Gardner
Louis M. Numkin
Justin L. VanKleeck
Richard Wyatt

National Heroes of '76

Benjamin M. Yudesis
John J. Brown
Carl Diamond
James F. Benson
FORT SAM HOUSTON CHAPTER NO. 17
NATIONAL SOJOURNERS, INC.
| | |
| --- | --- |
| President | Luther L. "Lee" Leopard, Jr |
| 1st Vice President | |
| 2nd Vice President | |
| Secretary/Treasurer | |
| | |
| | Jerold Hopkins |
| Flag Bearer | |
| Staff Judge Advocate | Benjamin Yudesis |
| Surgeon | Dock Dixon |
ALAMO CAMP, HEROES OF '76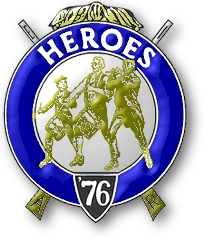 | | |
| --- | --- |
| Commander | |
| Chief of Staff | |
| Asst. Chief of Staff | |
| Officer of the Day | |
| Adjutant | James R. "Bob" McConnell |
| Musician | Freddie Freeland |
| Senior Lieutenant | H. Nelson Dunn |
| Junior Lieutenant | James Griffith |
| Commander of the Guard | Daniel Orzwarzack |
| Sentinel | Art Posey |
| Chaplain | Ray Benton |
| Judge Advocate | Benjamin Yudesis |
| Surgeon | Dock Dixon |

WHAT IS NATIONAL SOJOURNERS, INC.
National Sojourners, Incorporated, is a nonprofit, domestic, fraternal order, operating in accordance with a Certificate of Incorporation issued by the Commonwealth of Virginia. For a history of the National Sojourners, click here.
---
PURPOSES OF NATIONAL SOJOURNERS, INC.
The Purposes of National Sojourners shall be to organize Commissioned Officers, Warrant Officers and Senior Noncommissioned Officers of the uniformed forces (past and present) of the United States, and Honorary Members who are Master Masons, into Chapters, for the promotion of good fellowship among its members, for assisting such as may be overtaken by adversity or affliction, for cultivating Masonic ideals, for supporting all patriotic aims and activities in Masonry, for developing true Patriotism and Americanism throughout the Nation, for bringing together representatives of the uniformed forces of the United States (past and present) in a united effort to further the military need of national defense, and for opposing any influence whatsoever calculated to weaken the national Security.
---
MEMBERSHIP
Membership Categories

Active Members – Those Master Masons who are or have been Commissioned or Warrant Officers or Senior Non-Commissioned Officers who meet the requirements for Active membership in National Sojourners and who have been regularly elected to and initiated in any chapter of National Sojourners, Inc., are Active members.

Honorary Members – Those Master Masons who are ineligible for Active membership but who have been regularly elected to Honorary membership in any chapter of National Sojourners in recognition of meritorious service to the Nation or Freemasonry.
Qualifications – All Brethren who are interested in the Order should apply.
Masonic - You must be a Master Mason (3rd Degree) in good standing of a recognized Regular Lodge.
Military - You must be an Officer, Warrant Officer, or Senior Non-commissioned Officer**, Past or Present, of the uniformed services, who have served honorably.

Honorary - If you do not qualify under the provisions of the military standards, each chapter is authorized 15% of its membership to be honorary. It can exceed this 15% with a special waiver of the National President. Grand Lodge Officers in the Progressive, Elective Line that would qualify as honorary will not be accounted for within the 15% limitation.
** Senior Non-Commissioned Officers include the top three grades of E-7, E-8 and E-9 or prior to November 1958 the top three grades of E-5, 6, 7.
---
RESERVE OFFICER TRAINING CORPS ROTC AWARDS
Every year, the Order bestows upon a member of each unit of the ROTC and the Junior ROTC the Sojourners ROTC medal with ribbon and certificate. The award goes to the cadet who has, in the opinion of his or her superiors, done the most to encourage and demonstrate the ideals of Americanism by deed or conduct or both; and who has demonstrated potential for outstanding leadership. This award is available upon request to every ROTC and JROTC unit in America. Nearly 1500 of these medals are presented each year.
---
FLAG PROGRAMS
Throughout the Order, several historical and patriotic flag programs have been developed. One, in particular, had a Scottish Rite genesis. A member of the National Sojourners Chapter in El Paso, Texas, Hubert L. Koker, 32 °, K.C.C.H., was chairman of a Scottish Rite committee tasked to prepare an Americanism program for presentation to the El Paso Scottish Rite Valley. He developed a program in which the American Flag was built, stripe by stripe and star by star with a narration giving the state or states admitted to the Union with the addition of each stripe and star. Another Brother, who was also a member of both the El Paso Scottish Rite and National Sojourners, saw the program and understood immediately the full significance of what he had seen. After getting proper permission, he brought the program to National Sojourners, Inc. The rest, as they say, is history. The program was refined again and again. More portable and reliable props were developed, and "Building the Flag" teams were formed throughout National Sojourners with their affiliated Order, The Heroes of '76, presenting it in colonial uniforms, often assisted by their ladies, also in colonial costume. This excellent patriotic and educational program has been performed thousands of times at schools as well as Masonic and non-Masonic gatherings of all kinds. It continues today as one of the most effective and popular patriotic programs yet invented. A "Historical Flag Program' was written by National Sojourner, Byron C. Jenkins, 32°, K.C.C.H., of the Omaha, Nebraska, Scottish Rite Valley, for presentation during the U. S. Bicentennial celebration. Past Grand Master Jenkins's program displays up to sixteen flags used by Americans from pre-Revolutionary times to the present. The presentation utilizes three or more "Heroes of '76" to display each full-size flag while a narrator gives the history of how the Masonic heroes who were serving under it contributed to our country's birth, development, and fame. The programs cited here barely scratch the surface of the service performed by National Sojourners, Inc. This small but capable group of American Masonic leaders quietly serves our country and Masonry every day through their efforts to raise the loyalty and pride of every American by eulogizing and emulating the Masonic builder-patriots who preceded them. Click here to read "A Toast to the Flag " and "To the Colors."






Webmasters: T. E. "Gene" & Gay Carnes